An Informatics Baseline to Understand the Impact of Climate Change on Plant Diversity
In order to do repeatable Science with the increasingly large amount of botanical data, the BIEN working group has been working since 2008 toward bringing together disparate networks of botanical researchers. The goal is to develop a baseline informatics infrastructure and a collaborative network.
Why do we need BIEN? Ecosystems change naturally as well as due to human intervention. Species ranges expand and contract, and some species become extinct. Sometimes these changes fundamentally impact the diversity and function of local communities. Documenting large shifts in species' abundance and ranges requires data from entire biogeographic provinces. Most datasets, however, originate from individual researchers and cover local scales. These efforts represent only a small part of the full evidence which could be brought to bear upon any given research question. If we could combine the millions of vegetation plots, botanical inventories, and specimens collected since the birth of plant ecology in the late 1800s, we would have an enormous baseline database for addressing questions on plant diversity and distributions that have not been addressed before.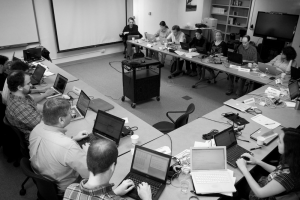 Our goals
-To bring together:  (i) leading collectors and managers of botanical survey and inventory data (ii) informaticians and computer scientists and (iii) ecologists/evolutionary biologists/biogeographers interested in synthetic research across scales.
– To integrate global botanical observation data: We focus on how to best  integrate data fropm herbaria, ecological plot and surveys, taxonomies and phylogenies, and trait records. This effort includes several hundred million records of species occurrences and associated data. The result is the largest assembly of integrated high quality data on plant diversity and distribution for both tropical and temperate plant species yet created. BIEN empowers both basic and applied questions regarding how geography, climate, climate change, and human land use influence plant diversity, and plant species distribution, abundance, and extinction risk.
-To develop the informatics infrastructure to serve the community in order to advance the discovery, study, and preservation of botanical diversity; via (i) a standardized database schema and standardization tools for the integration, standardization, and 'scrubbing' of botanical observation data;  (ii) repeatable workflows (iii) derived products including species range maps, species lists, and; (iv) to provide feedback to the original data providers concerning the quality and necessary corrections to their data.
Please see Enquist, Condit, Peet, Schildhauer, Thiers et al. (2016)1 for an overview of BIEN.https://doi.org/10.7287/peerj.preprints.2615v2
BIEN is an NCEAS Working Group. Ongoing development of BIEN cyberinfrastructure is also supported by the US National Science Foundation,  Cyverse , Conservation International  and SPARC
1Enquist BJ, Condit R, Peet RK, Schildhauer M, Thiers BM. (2016) Cyberinfrastructure for an integrated botanical information network to investigate the ecological impacts of global climate change on plant biodiversity. PeerJ Preprints 4:e2615v2 https://doi.org/10.7287/peerj.preprints.2615v2